Cap Juluca
---
Cap Juluca, located on the spectacular island of Anguilla, is one of our favorite tropical resorts. Situated on gorgeous Maundays Bay, Cap Juluca gives each guest a sense of luxurious seclusion in a perfect tropical setting. Upon arrival at the resort, we were struck by Cap Juluca's Moorish architecture that blends beautifully with the white powder sand and the amazing blue of Maundays Bay. The service is impeccable, from the relaxing check-in to amazing service on the beach. Each villa at Cap Juluca, regardless of room class, is located directly on the sand with its own private beach access. You will feel as if Cap Juluca is your own private luxury resort. If you are looking for a tropical serenity and beauty wrapped in unparalleled service and luxury, Cap Juluca is the perfect spot for you.
Here's our lowdown on Cap Juluca
---
- Our Favorites -
BEACH - Maundays Bay at Cap Juluca is our favorite beach to lounge away the day. There were plenty of lounges and each morning we found a pair of lounge chairs set up on the beach in front of our room. The service was excellent. We had an attendant help us get set up for our day in the sun (complimentary bottled water in a small cooler was provided, which is a nice touch) and someone was always available if we wanted some lunch or a tropical cocktail. There was plenty of room between us and our neighbors so we never felt like we were crammed together. The water is amazing and just perfect for a quick dip to cool off. The beach is ideal for a stroll to help you relax. This beach has it all. If you are looking for a quiet, secluded, tranquil beach that allows you to unwind, look no further than Maundays Bay at Cap Juluca.

Beach at Maundays Bay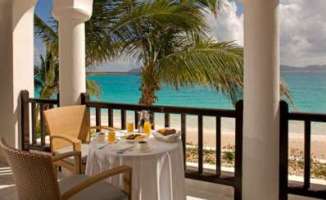 Continental Breakfast
Served on your Terrace
SERVICE- We found the service at Cap Juluca to be first rate. Check in was smooth and quick (complete with a refreshing Rum Punch). All aspects of the service were superior: housekeeping, the lounge, the restaurants and the general staff. The rooms are somewhat spread out (which is what gives you the secluded feeling), so if we did not feel like walking we just called for a ride. Whenever we called for a ride to the main building or restaurant, the staff was always very quick and accommodating. Cap Juluca provided that perfect blend of service when you wanted it, but also provided you quiet isolation when you wanted to decompress and just be left alone. That is not easy to do, but Cap Juluca made it seem effortless.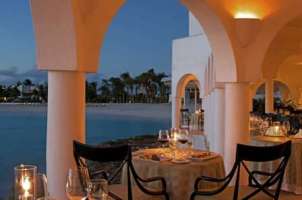 View from Pimms
DINING - We are not foodies by any stretch of the imagination, but the food at Cap Juluca was truly remarkable. We dined at both Pimms and Spice and thoroughly enjoyed the experience. Both restaurants are set right on the bay so as you dine, you seem to be floating on the water. The food was pricey, but well worth it. There are few times that we really have a memorable dining experience, but Pimms and Spice both exceeded our expectations.
There is casual dining at Blue which offers breakfast, lunch and tropical drinks. The food was good and their service excellent.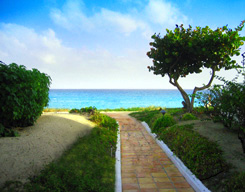 Private Path from Room directly to the Beach
SECLUSION - We love a resort that gives you a genuine feeling of seclusion and serenity. At Cap Juluca we truly got the feeling that we were on your own secluded, private beach. The layout of Cap Juluca allows one to enjoy all aspects of the resort but never lose that feeling of tranquility. Whether strolling down our own private path to an almost deserted beach or being ferried to dinner at magnificent Pimms, we always had the feeling that we were at our own private resort. If you are looking for true downtime with no interruptions, noise or commotion, you will find that Cap Juluca is the place for you.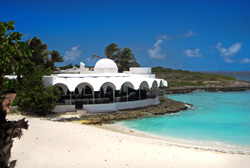 Pimms and Spice
DON'T MISS :
Dinner at Pimms - I know I have already mentioned Pimms, but I really wanted to make sure you take the time to have dinner at this awesome restaurant. Many restaurants say they are great ... Pimms really is that good. One thing we have to mention is Wilma at Pimms. You might say she is the hostess, but she is so much more. I have never in my life been made to feel more welcome than I was with Wilma. She says "Everyone gets a hug, even if they don't want it". I am not a big touchy feely person and my husband is definitely not, but Wilma makes you feel like family. Stop by Pimms to experience the hospitality that makes Cap Juluca and Anguilla so special!
Other AWESOME Things Not to Miss - I want to take the time to mention a couple of other things that are really worth checking out (can you tell I REALLY LOVE Anguilla!).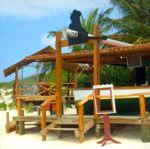 Bankies on the Beach
1. Bankies Dune Preserve - Located right next to CusinArt Resort, Bankies is a local institution owned by Bankie Banx, a famed local musician. You can park at the Dune Preserve or walk through CusinArt, go to the beach, turn right and in 50 yards you will see Bankies. Nothing to look at, but it has a great local vibe. The bar is right on the beach; you walk from the sand to the bar. On Sunday they had live music which made for a lively afternoon. Relaxing drink ... check. Local island music ... check. Chilling out on the beach in Anguilla ... check. For us, there is nothing better than Bankies in the afternoon.

Elvis!
2. Elvis' Beach Bar - is located in Sandy Ground and is a short drive from Cap Juluca. Either rent a car (we did and it worked out quite well) or take a cab, but don't miss Elvis' Beach Bar. This is a local bar that is actually mode out of a boat! Not fancy, but you get the absolute authentic Anguilla vibe. Elvis' Rum Punch is great (and potent) so be careful. But if you want to get out and experience the local environment, this is a great place. And on top of everything else, Elvis is a really cool guy and you will enjoy spending some quality time at his bar/boat.
3. Shoal Bay - If you think Maundays Bay is Beautiful (and it is!), you might actually think Shoal Bay is better. It's impossible to explain the different shades of blue until you are standing on the beach looking at the amazing water. You will need to rent a car (a cab would be pretty expensive), but it will be worth it. It doesn't look like much as you get to the end of the road. But just find a place to park and walk down to a truly unbelievable sight. Stop for a drink or a bite to eat at Uncle Ernie's and you can sit and enjoy the scenery. Take a walk on the beach and you will not be disappointed. You will think to yourself, how can a place be so beautiful?

Shoal Bay
- Other Good Stuff -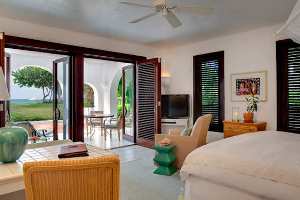 Luxury Room
Room - When we stayed at Cap Juluca we choose a Superior Room. The room was large, well appointed and very comfortable. My one gripe is that it did not have a soaker tub. The next category of rooms are Luxury Rooms that have a beautiful soaker tub and are slightly bigger. For the extra $100 per night we could have upgraded and actually it should have been an easy choice. I know, I know ... what was I thinking? Also, the Junior Suites look amazing with an even larger room and an unbelievable looking soaker tub. When we go back, we are going to look hard at the Jr. Suite (Luxury Room at least). Since our last visit to Cap Juluca, they have recently completed a $22 million renovation project. The rooms were awesome before, so I expect that they are over the top, world class now. The Moorish-style beachfront rooms just give you such a unique feeling when visiting. When you book at Cap Juluca, you are in for an unbelievable experience and the accommodation will be no exception.
Activities -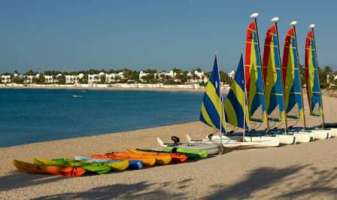 Cap Juluca offers many activities that can be arranged through the concierge. We rented a car and had no problems, the car was good and pick-up and delivery were right at the property. We recommend renting a car and exploring Anguilla on your own. You will definitely want to drive over to Shoal Bay and see that amazing beach. Anguilla is such a beautiful island and there are many places to explore. Cap Juluca offers many day trips and all the feedback we received were very good. Anguilla is a much quieter island (which is what we love about it), so there is not as much activity as some of the other Caribbean islands. But there are plenty of day trips and activities to keep folks occupied who want a little more excitement than just laying on the beach.
Nightlife and Other Dining Options - Anguilla boasts many excellent restaurants with many options to fit the tastes of anyone. We recommend Straw Hat or Blanchards if you are looking for more "upscale" dining. Both restaurants are located just steps from the beach and offer amazing views and wonderful menus. If you are looking for casual dining, head over to Sandy Ground and give the Pumphouse a try. A casual atmosphere, good food and good times make Pumphouse at Sandy Ground a great option for laid-back fun on Anguilla
Anguilla has some interesting options if you like to get away from the resort and listen to some music and enjoy a drink. Malliouhana Resort offers a great option for a sunset cocktail and there are several local bars at Sandy Ground. While there are nightlife options in Anguilla, don't expect casinos (there are none) or nonstop partying a la Jamaica or Cancun (thank goodness!). But for a Rum Punch and soaking up some local flavor, Anguilla is a good place to get out among the locals.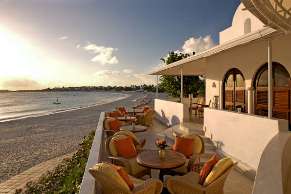 Maunday's Club
Bar/Lounge - We found the bar at Blue, Maundays Club and Spice to be quite good and fairly reasonably priced (for a 5 star property). The service was excellent and the cocktails were very good. But what makes these places so special to enjoy a drink is the view of the beach and Maundays Bay. When we travel we love just soaking up the beauty of our surroundings. One of our favorite things to do is have a tropical drink and just gaze over the spectacular scenery. If you too like to take in the surroundings and have a quiet drink, you will definitely LOVE Cap Juluca
- And Our Not So Favorite Things -
Pool - One minor complaint was the pool area. Now the resort has completed a renovation since we were there and the pool may be improved, but for us it just did not equal the quality of the resort. It was small and seemed to be tucked back out of the way. Now none of this concerned us because we spent all of our time on the outrageously beautiful beach. But, if you are really into the pool and pool areas, you might want to do a little research before you go.
Spa - I always enjoy a relaxing spa treatment (or two or three or ...), but I felt the spa facilities at Cap Juluca were not up to par. Once again, there has been a renovation since we were there and they might be improved. That being said ... I was not overjoyed with the spa facilities. However, you can schedule in-room massage services. If you are expecting a large, state of the art spa with locker rooms, relaxation rooms and the like, Cap Juluca will probably leave you a little wanting.
Lack of Sunset - OK, maybe I am splitting hairs, but the sun does set on the opposite side of the island, so you will not have sunsets from the resort. You can go to The Malliouhana for great drinks and sunsets. If you get up early, you get great sunrises, so there is always that to look forward to.
---
Resort Information
Cap Juluca - [Link to Hotel Website]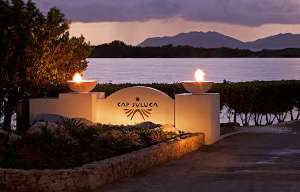 Maundays Bay, AI-2640
Anguilla, British West Indies

Hotel Photos
Room Rates
Room Descriptions
Package Rates
Resort Room Prices
When we travel, we always look for the best deal and do not mind traveling during the off season to get the lower prices. This means you may not get to travel at the optimal times based on Temperatures and Rainfall (see charts below). Room prices vary greatly based on the time of year you travel. For Cap Juluca, the following table shows the general timing of their seasons. Please note the exact dates may vary from year to year.
| Season | Room Prices | Dates |
| --- | --- | --- |
| High | High + | December 18 - January 3 |
| Winter | High | January 4 - April 4 |
| Spring | Moderate | April 5 - May 31 |
| Summer | Lower | June 1 - November 1 |
| Autumn | Moderate | November 2 - December 17 |
Prices can change without notice. Please Click the following link: Room & Rates for Cap Juluca to get the latest information on prices
To see the latest packages that Cap Juluca is offering, please click the following link: Packages.
Map of Cap Juluca on Anguilla
View Larger Map
Weather for Anguilla
The Island of Anguilla is an arid, flat, low-lying island that generally only supports scrub brush. There are no rain forests or mountainous regions that you find on some of the Caribbean islands. What you do get are some of the most beautiful beaches in the world. We find Anguilla to be similar to the Out Islands of the Bahamas or Turks and Caicos; which is fine with us because these islands tend to have great beaches. We think it is important to inform folks as to the general geography so there will be no surprises when you arrive for your vacation.
The weather in Anguilla is fantastic; if you like lots of sunshine and cooling breezes. The weather is generally good year-round, with warm tropical temperatures, lots of sun and gentle breezes. But Anguilla is located in the Caribbean, which means you should be prepared for unexpected rain storms as well as the occasional hurricane that hit generally during the months June through November. But the hurricanes are rare, and even the rain does not last long. There is plenty of sun throughout the year.
Rainfall - Whenever we go on vacation, trying to avoid rain is always high on our list. My husband is especially fanatical about this. Since it is in the tropics, Anguilla like all Caribbean islands is going to get some rain. But Anguilla generally receives less rainfall than other Caribbean islands. The average is about 40 inches of rain per year, with the most rain in May-November (see chart to the right). So if you want to minimize rain on your trip, Anguilla is a very good option.
Temperature - The chart at the right shows the average temperatures for Anguilla. As you would expect the average temperatures (as well as the humidity) increase fairly significantly in the June-October time frame. The breezes in Anguilla provide some relief from the heat, but it can still get toasty in the summer (just like any Caribbean island). Of course the upside is that the summer is the low season and you can get better deals. During the winter months, the temperature still averages 79°F. This feels pretty good when escaping the freezing temperatures back home. The prices are more during the winter (and holidays), but what price can we put on 80°F and beautiful beaches in the middle of winter.
Before you go Anguilla, or anywhere in the Caribbean, it is always wise to keep a watch on the weather.

Check out the latest weather for Anguilla:
---
To check for storms and/or Hurricanes, please click the following link: National Hurricane Center. This is a great source for information regarding all types of storms and potential storms in the Caribbean area.

Another good source of information on storms and potential hurricanes is the Accuweather Hurricane Center
[return to top of page]